Redeemer Counseling Newsletter
Understand and Reduce the Impact of Stressful Events
As we enter the fall season with the start of a new school year, we face so many uncertainties, fears and pressures, and it is difficult to make decisions based on limited data. Many people are juggling work, family, in-person and/or virtual school, and continuing to adjust as things open up amidst the nagging fears of a second wave of COVID-19. Then we are also living with wildfires in the west, ongoing protests against racial injustice, a polarized election season, and an economic downturn with high rates of unemployment. In the midst of all these stressors, how can we keep ourselves and those we serve from experiencing long-term detrimental effects, and how can we draw on our relationship with Jesus to bolster our resilience?
This month's tool provides a framework for thinking about various factors which contribute to the level of impact a stressful or traumatic event can have. The framework also offers ways to think about how you can improve your own self-care, as well as work with others to reduce some of the effects of their stress. It will consider the hope we have in Christ, our eternal support and resource, to foster increased dependency on him.
Ellen Lee, LMHC
Counselor
---
Toolkit

---
Effects of COVID-19 & Care of Self
To watch Ellen Lee use the Factors Impacting Stressful Events tool offered in this month's toolkit, watch this workshop video on self-care.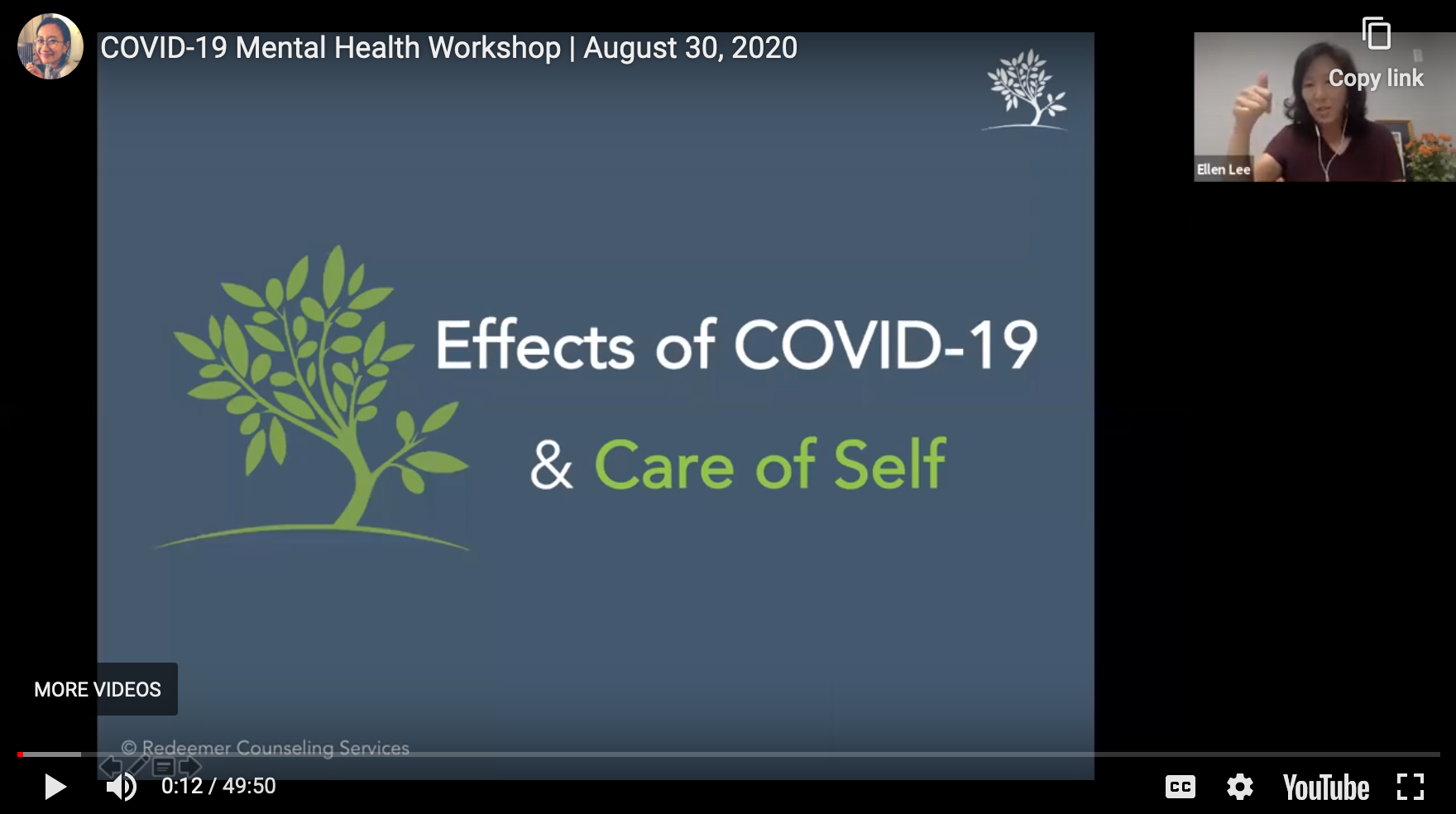 ---
Redeemer Counseling Services
Continuing Education Training
Redeemer Counseling Services is excited to announce that it has been approved by New York State as a site to offer Continuing Education Units (CEU) for counseling training. If you would like to be notified of the CEU courses we offer in the future, please sign up to our professionals mailing list.
---
Top Viewed Articles
May 2019: First Steps to Calming Anxious Clients
Jul 2019: Uncover Unconscious Beliefs with the Trauma Egg
Oct 2018: Identifying Our Strategies of Self-Redemption
---