Update from Dr. Judy Cha, Redeemer Counseling Director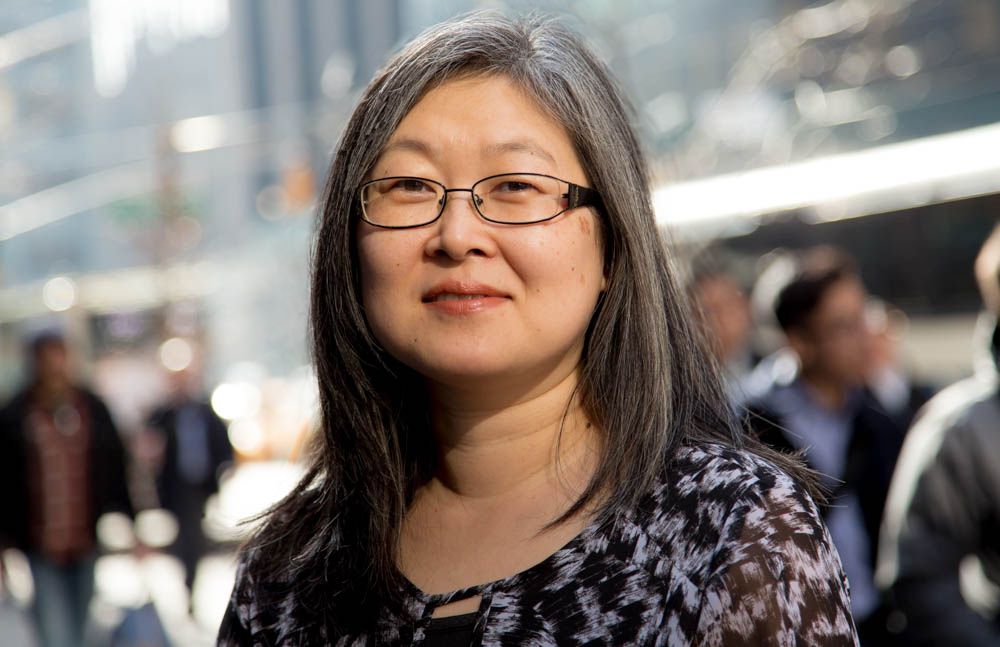 Our city's mental health and spiritual needs continue to rise steeply. At Redeemer Counseling Services (RCS), we are seeing a rise in demand for counseling particularly for those in the lower income bracket. We are seeing more school aged children and adolescents who are struggling with depression and anxiety. We are seeing more couples coming in with marital strife and parental burnout. And we are also seeing more people new to therapy as a result of experiencing racial trauma and stress.
We are trying to hire more counselors but realistically, it will still not be enough to meet this kind of meteoric rise in need. We know that we need to train and equip more pastors and lay leaders to serve their communities with our integrated professional and gospel centered counseling care. A key part of this effort has been through our 9-month Counseling Fellows program for pastors and church leaders, which met virtually this year We also provided support to prior Fellows as they continue to care for their peoples. Additionally, we partnered with other ministries to help their communities navigate this mental health crisis through workshops and group therapy.
It has been a difficult year for many. And yet, through God's provisions this year, RCS found a new home and moved into our new offices on W38th Street. A volunteer lawyer and interior designer helped us to negotiate our lease and set up enough session rooms so we can meet more clients well. Our counselors have started to see clients in person for the first time since March 2020. We are serving more than 450 clients every week, either in person or virtually. RCS provided over 23,000 sessions this past year, a peak for us.
Our Virtual Benefit gave us a moment to connect with friends and to celebrate God's healing work through our ministry. It is a privilege to walk with our clients, pastors and ministry partners in this year of crisis. I thank you so much for walking with Redeemer Counseling Services this year and holding us in your prayers. We pray this holiday season is a blessing for you and your loved ones.
---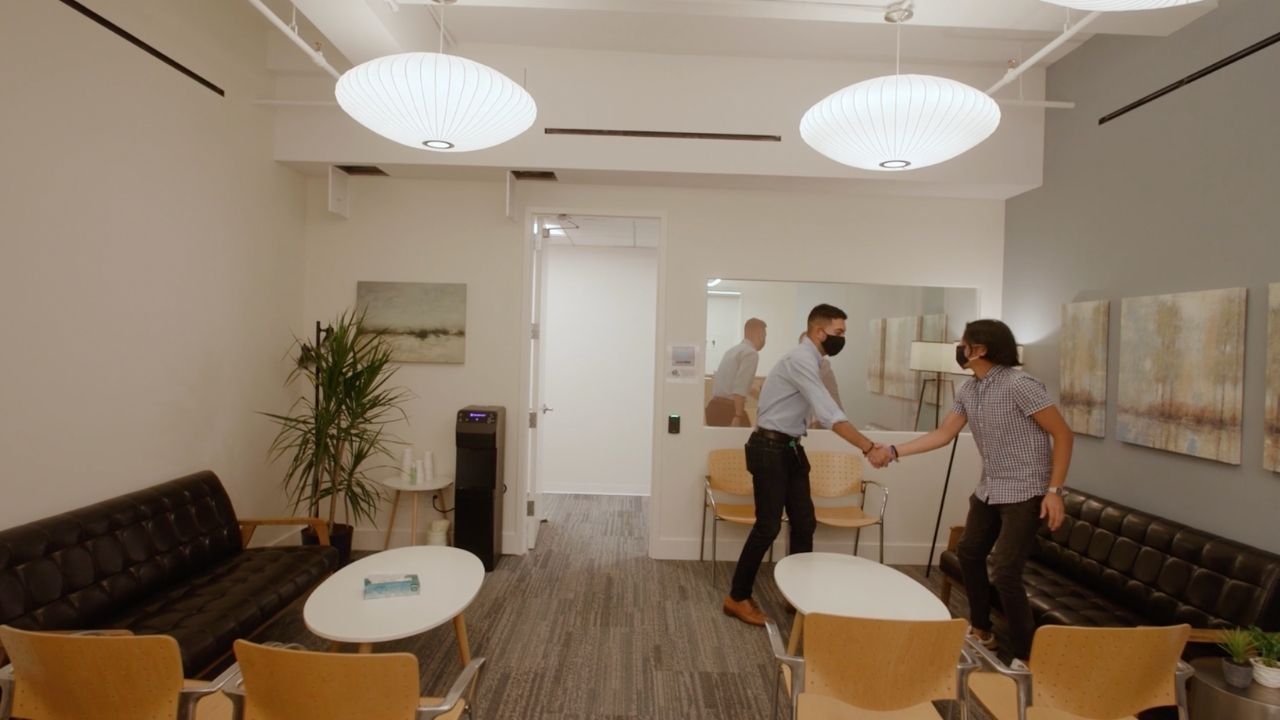 The New Office Lobby at Redeemer Counseling
---

7 Tips for Better Family Gatherings

Family holiday gatherings may make many of us feel uneasy. We are entering a different Christmas season than the past two years. We have changed. We may have faced losses or pain from exacerbated differences between us and our family members. If the idea of spending time with family makes you feel stress or dread, then it be good to have a plan to help you manage it all.
Redeemer Counselor Kate Glerup Shares 7 Tips for planning for the holidays BEFORE they arrive.
TIP 1: Have a clear vision for the holidays.
Do you want to relax and disconnect from work? Do you want quality time with your family? Do you need time with friends or alone time? How do you relieve stress?
TIP 2: Establish boundaries.
Be proactive, especially if there is abuse or dysfunction in your family. Make the plan before you are in the situation. Have a meeting or conversation with family prior to the event. In this conversation, be clear about your needs and expectations. Remember, a boundary not communicated is not a boundary. If a family member will drink and drive, let them know ahead of time that you will not get in a car with them if they are drinking. Communicate clearly that you will leave the room if a topic that triggers hurt and pain is discussed. If you've experienced abuse from a family member, set physical and emotional boundaries with the abuser.
Likewise, if someone is expressing their boundaries with you, show them kindness. It is not personal, it is what they may need at the moment.
TIP 3: Build your team.
Seek out a friend, counselor, or group to get emotional support, an objective opinion, and help in fulfilling your vision. Just because you have accepted a behavior as normal for your family, does not mean it is healthy or functional. Other people can help you get a better read on the situation, especially because as human beings, we have an unconscious tendency to go back to the very places they were hurt (e.g., dysfunctional families) to undo the past and seek healing. But remember, this does not work.
TIP 4: Protect yourself and those in your care.
In planning, be specific in how to execute the plan to protect yourself from dysfunctional behavior or from toxic, hurtful people. If a parent will drive drunk, then plan to never allow anyone to ride with that person; or insist on always driving. If a person is consistently verbally abusive, then have an exit statement and strategy when the verbal abuse begins.
TIP 5: Evaluate how you're doing in the situation.
Know ahead of time that you need to see how you are doing in the midst of the event. Perhaps schedule a phone check-in with a counselor or friend. Or if you're with your spouse, have a plan along the way to monitor how you're both doing, i.e. a nightly brief check-in on how the day went.
TIP 6: Be flexible.
Adapt and fix what is not working and be willing to change the plans. If a situation is just too overwhelming, perhaps stay with a friend or in a hotel.
TIP 7: Remember that God is with you.
Ask God to help you grieve what you may not have received from your family of origin when you were younger and to accept that perhaps you may never get what you desire from them. Go to God with that grief. Ask for God's compassion for your specific losses but also to receive His love and care over those losses. Know that He grieves with you. Consider using prayer, imagery, art, or music to help you experience your permanent identity as a beloved child of God.
---

Client Spotlight: Marie

I have always been interested in personal growth and I've taken lots of personality tests: Myers-Briggs, DISC, StrengthsFinder and others. When the opportunity presented itself to take the Enneagram, I agreed. The Enneagram was a bit different since it seems to focus on behavior patterns and our responses.
When I reviewed the results of my Enneagram, I became very curious because it uncovered some of the tendencies I have that cause me to push God away rather than draw closer to Him.
I never had Christian counseling before and I had the opportunity to avail myself of RCS. I asked for a counselor who was familiar with the Enneagram and could chat with me about my results.
During the first few sessions, we reviewed the Enneagram results and she asked me to talk about some of the main events in my life and how I responded to them.
When I have worked with counselors and looked into the past, it was mainly getting to the root of the issue. I still had all of the underlying feelings and I used people, places and things to help me to either stuff my feelings or search for ways to feel better. Those coping skills never worked.
I have been through quite a bit of therapy and trauma counseling in my life. This counseling at Redeemer Counseling was different, I was given tools and learned how the gospel intersects with events and areas in my life. This was the focus and the center of the therapy. I had never woven my relationship with Jesus into some of the darkness and trauma that I had encountered in my life. For example, instead of learning at a young age to go to Jesus when troubled or afraid, I developed ways to stuff down my emotions and not feel my feelings. I learned to protect myself through people pleasing, becoming defensive and with self criticism. I was aware of some of these patterns, but never connected them all the way to the gospel.
My counselor actually gave me worksheets, visuals and scripture that taught me to really internalize God's love for me. On one particular day, she asked me to talk about some of the people in my life with whom I felt acceptance and love. We talked about how they loved me, how I felt when I was with them, my trust in them. Then she showed me through the gospel how God's love is unending. And that's when I really knew and felt God's love for me--that His love was even greater than those who made me feel most loved and accepted. After that, I was able to know that it's Him who I go to when I need comfort, and not those external things that I think are going to give me joy and pleasure.
She taught me new coping skills. I learned that between the emotional mind and the reasonable mind lives the wise mind and from that point, the Holy Spirit guides and directs me. My counselor taught me that I don't have to be afraid of God and that He never leaves or forsakes me.
Every day I spend time with God and his word listening to Him and His will for me. I am God's daughter and his love is unfailing. Redeemer Counseling Services helped direct me home to my Eternal Father.
Eph 3: 16-19
I pray that out of his glorious riches he may strengthen you with power through his Spirit in your inner being, 17 so that Christ may dwell in your hearts through faith. And I pray that you, being rooted and established in love, 18 may have power, together with all the Lord's holy people, to grasp how wide and long and high and deep is the love of Christ, 19 and to know this love that surpasses knowledge—that you may be filled to the measure of all the fullness of God.
---
Double your Gift to Redeemer Counseling
Redeemer Counseling is helping to meet this mental health crisis by serving clients with compassionate, professional, and gospel-centered care throughout the greater New York City Area. Your gifts help us maintain our quality of service and allow us to continue to offer clients our sliding scale rates.
Through December 31st, every dollar given will be matched, which means more clients will be served through your generosity. Please keep our counselors and clients in prayer as they continue on this healing journey.